Shoutbox
Shoutbox is now bottom aligned
<
Rick
>
No, I've been too broke lately to go out and do something like that!
Nov 25, 2018 12:25:32 GMT -6
<
Bayer A.User
>
@rick: Lately it seems i've been doing more LOWTECH(leaking plumbing) than anything else. But this aint a home improvement website....Haha
Nov 30, 2018 16:50:52 GMT -6
<Bayer A.User>
Setting up latest Quantum Firefox. Block list Disconnectme(strict) seems to prevent "Guest" posts.
Dec 10, 2018 7:55:59 GMT -6
<
Rick
>
Microsoft is supposed to be having another Bug Bash starting next week. It should be interesting since most of the 19H1 series of builds have had stability issues where things almost work, but don't.
Jan 17, 2019 17:58:17 GMT -6
<
Rick
>
Whatever Microsoft is changing to the code base is breaking drivers, simple functions that have always worked before now don't, builds having chronic update problems going between builds is on the rise again, forcing the need for more clean installs.
Jan 17, 2019 18:02:10 GMT -6

*
<
Rick
>
One would think most of this stuff should have been solved a long time ago for Windows 10, but the problems just seem to keep coming back, manifesting itself to be worse now than it was before.
Jan 17, 2019 18:28:57 GMT -6
<
Bayer A.User
>
Pulled the trigger on FeatureUpdate v1803. Six hours of updates&Reboots and the end result was.....Failed to install Error 0x8024200d !shit, i didn't really want it anyway
Feb 18, 2019 14:28:29 GMT -6
<
Bayer A.User
>
BTW,currently at 16299.192 v1709. We shall see how that works. If it scrambles my cable tv picture again I SWEAR TA GAWD THAT HDD GETS WIPED AND LINUX INSTALLED !
Feb 18, 2019 14:44:11 GMT -6
<
Rick
>
Yeah, Windows 10 isn't very good at playing video files. No issues with Linux or Windows 7 on the same system.
Feb 18, 2019 20:03:07 GMT -6
<
Bayer A.User
>
Microsoft and Nike apparently have the same business model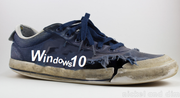 Feb 22, 2019 16:33:38 GMT -6
<
Rick
>
Call me stubborn, but I am finally ready to give up on testing Windows 10. Going along with each new iteration, it has become more and more obstinate about getting installed onto a given system while chewing up more and more resources in doing so.
Jun 8, 2019 12:28:33 GMT -6
<
Rick
>
With Windows 7 soon losing support according to Microsoft, I see there has been a lot more activity on YouTube where people are seriously looking at, and reviewing alternative OS's to use instead of Windows..
Jun 8, 2019 12:35:08 GMT -6
<Rick>
I compromised, I gave up on testing Windows 10 and went out and installed something much more stable called Windows 8.1!
Aug 4, 2019 19:03:02 GMT -6
<Bayer A.User>
Can't argue with you Rick, Stable n fully supported for a few more years. 8.1 has it's own hijinks though if one doesn't have a touchscreen. Not nearly as much fun as 7

Aug 11, 2019 10:03:29 GMT -6
<Rick>
I was on the preview program for Windows 8 way back when. It was okay, but I had lost interest in it very quickly when the Pro edition had a known bug in it that can crash a system upon setup. I was so lucky to be one of those.
Aug 11, 2019 22:11:24 GMT -6
<Rick>
As for installing Windows 8.1, it is my backup plan., but Windows 7 is still my main OS.
Aug 11, 2019 22:17:01 GMT -6
<
einzweidrei
>
Wow. Does anyone come on here anymore. I've been away so long that I forgot my logon info and had to make a new profile. I'll check the board later, but looks like it's deserted. -Michael (OG Admin)
Apr 7, 2020 12:10:56 GMT -6
<
Rick
>
Yes, I've been checking in every now and then, but you are right, it's been very quiet here.
Apr 7, 2020 19:35:42 GMT -6
<
Rick
>
Microsoft //Build Windows Insider Webcasts - May 2020 answers.microsoft.com/en-us/insider/forum/all/microsoft-build-windows-insider-webcasts-may-2020/7bfaaa6d-c363-4151-a80e-a97602e990cb
Apr 29, 2020 6:22:56 GMT -6
<Disk2019>
How to exempt Edge Browser from being removed via Noel's Script . its pakage name is as follows : Microsoft-Windows-Internet-Browser-Package
May 6, 2020 2:46:43 GMT -6